ADVANCED MATERIAL
YOU WANT YOUR GEAR PROTECTED BY US
We're an outdoor brand that has designed our collection using a material which is incredibly strong yet environmentally friendly in its production, use and disposal. Our products are both non-toxic and non-plasticizer, compared to other harmful single use materials currently being used across outdoor products such as pvc, plastic, nylon and tarpaulin. 
TPU
WHAT IS TPU MATERIAL?
TPU stands for Thermoplastic Polyurethane and is a kind of Thermoplastic Elastomer. Bridging the gap between rubber and plastics, this class of material boasts a litany of desirable characteristics renowned for many applications including: Elasticity, Liquid Resistance, Abrasion Resistance, High Strength and Heat Resistance.  
Superior
TPU FEATURES
High temperature resistance and dimensional stability 
Very good low temperature toughness 
Superior dynamic properties: flexible and elastic 
Excellent abrasion, scratch and wear resistance 
High tear strength  
Excellent weather & UV resistance 
Excellent welding characteristics and adhesion 
DENIER
WHAT IS DENIER?
Denier (D) is a metric used to describe what is essentially thickness or density. Adventure backpacks used for outdoor activities such as watersports, hiking, fishing and camping can commonly be found in the industry standard range of 450–600D. We make our backpack with a denier measurement of 840D, putting our packs in the "incredibly tough" category. The added bonus is that even at a high denier, TPU material is lighter than most materials normally used including PVC, Nylon and Cotton.  
WATERPROOF
IS TPU WATER RESISTANT?
TPU maintains its flexibility while being waterproof and lightweight. When closed correctly, our backpack is 100% splash resistant and waterproof when submerged for a short period, keeping your gear safe and dry. With its lightweight structure, when closed, air is trapped inside and your bag will float on the surface.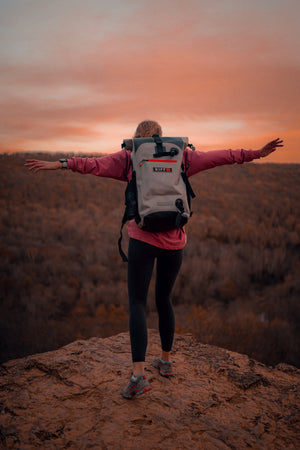 ECO-FREINDLY
IS TPU GOOD FOR THE ENVIRONMENT?
They call it "the plastic to smile about". Any substance and material can be potentially or inherently toxic or safe depending on several factors. However, in general TPU is considered an eco-friendly material for the material's reusable qualities.
Eco-friendly materials